How we can help you
EnCourage was set up in order to offer support to those who have left a cult, abusive group, one on one cult or been spiritually abused (called former members). This includes first generation (joined or recruited) and second/third generation (born and or raised).
Whilst EnCourage has a wide range of aims (set out on this page) we are only able to offer one service at this time (when funds allow) which is to subsidise counselling for those who cannot afford to pay. Counselling can be subsidised if the former member is unable to fund their post-cult counselling and is seeing an already approved Service Provider (ASP). This ASP will have been approved by EnCourage and thoroughly checked (counselling accreditation a requirement).
Since the Covid-19 pandemic we have struggled to raise funds for EnCourage and so if you contact us we will send you a list of resources but are unable to offer any other services.
If you have any queries please contact us. Please bear with us if there is a delay in response.
If EnCourage has helped you in any way would you consider making a donation towards counselling former cult members and survivors of spiritual abuse? You can do this by emailing us - click on contact below.
Aims of EnCourage
1. To promote the physical and mental wellbeing of people who have suffered as a result of contact with cults, abusive groups or relationships, or an abusive family environment, through the provision of financial assistance, support, befriending, mentoring, education, counselling, psychotherapy, accommodation, practical advice and advocacy, and through the training and supervision of individuals to provide such services.

2. To undertake research, and advance the education of the general public, in all areas relating to contact with cults, abusive groups or relationships, or abusive family environments, and to work with other bodies who have expertise.
The History of EnCourage
Some years after leaving the cult in which they had been raised, Christine and Jörg Mathis realised there was a real need to support other former cult members many of whom were either destitute or in need emotionally.
As a result they offered befriending, counselling and practical assistance to those struggling with the mechanics of life outside a cult.
They established the Clearwaters Open Doors Trust in 2004 as a fund-raising vehicle for this work, hoping in due course to establish a separate retreat centre. However, they did not have time to promote it as they had hoped.
Gillie Jenkinson had a similar vision for former cult members and Christine and Jörg agreed she would be a good person to take the Trust forward. Gillie offered to co-ordinate the re-launch of the Trust under new Trustees and with expanded aims.
As Clearwaters Open Door Trust was named after a local landmark it was decided that a less personal name would be used.
In 2009 the Charity Commission agreed that the Trust be renamed 'EnCourage Survivors of Cults and Abuse' and the aims were expanded (see above).
Christine Mathis-Rimes
We at EnCourage are deeply saddened to hear of the passing of Christine Mathis-Rimes who founded EnCourage along with her surviving husband Jörg.
Christine was a truly beautiful person, generous and kind, and she counselled and helped many who left the Brudderhof Communities sometimes even providing a home for those who were shunned and disenfranchised. You can read of her life story in her book 'A Cruel Sanctuary' (below) – it is fascinating, heart-breaking at times, and ultimately positive.
She will live on in the hearts of those who knew and loved her (and it was hard not to love her at first meeting – I certainly did).
Gillie Jenkinson Coordinator for EnCourage and the Trustees.
February 2021
Book: Cruel Sanctuary
We are proud to announce that the founder of EnCourage, Christine Mathis, has published her life story in a book entitled: Cruel Sanctuary: A young woman's battle to escape from a fanatical religious sect.
Check it out on Amazon.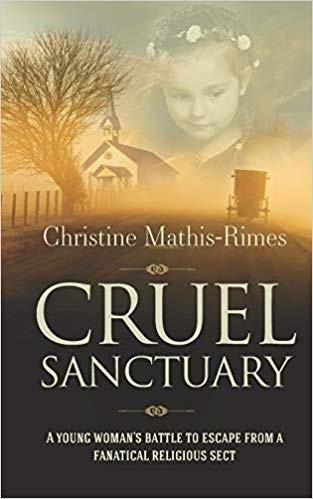 Who are we?
Gillie Jenkinson is Coordinator of, and an Approved Service Provider for, EnCourage.
Gillie is a UKCP registered psychotherapist and a Registered Member of BACP. She specialises in working with former members of cults, abusive or high demand groups, abusive relationships, one-on-one cults and spiritual abuse. You can read more about what she offers at www.hopevalleycounselling.com

There are three Trustees who are registered with the Charity Commission whose names are:

Mr Oswald Billings
Ms Christina Eagles
Mr Nicholas Cliffe
How can you help us?
In order for us to support those who need our specialist help we continually fundraise.
If you are able to give us a donation, however large or small, please contact us on the phone number or email below - 'every penny counts'.
Please have a look at our fundraising letter.
If EnCourage has helped you in any way would you consider making a donation towards our work? See above or email us and let you know alternate ways you can donate.
Contact: info@encourage-cult-survivors.org
Thank you so much for your interest in the work of EnCourage.
We need your support
Please give whatever you can afford by direct debit
Or to Sarah's half marathon JustGiving Campaign - runningforencourage
Contact us
You can find out more about EnCourage and what we offer by contacting the Coordinator, Gillie Jenkinson using the details below or the form opposite.
Telephone: +44 (0) 1433 639032
24 hour confidential voice mail will tell you if the office is open. Gillie Jenkinson rarely has time to return voicemail messages so please email instead. Thank you.
(This telephone number is shared with Hope Valley Counselling, Gillie Jenkinson's company)
Email: info@encourage-cult-survivors.org
EnCourage Survivors of Cults and Abuse is a Charity Registered in the UK
Number: 1104694